Well, we managed to get rolling on the lovely, typically sunny, california morning of October 29th.  My body was extremely pleased that I had hit the hot tub the night before.  Collectively, we had to do a little laundry and got some of the killer crepes from the killer crepe place in Pismo Beach.  Yumsters.
Then it was off to San Luis Obispo.  The first gig we booked on the tour.  A gig we had obtained press for.  A gig that we had lined up a local band for.  We had heard that SLO is a great college town and we were ready for a little juice bar and coffee shop action complete with a great gig.
SLO is actaully not far from Pismo beach, so we got there early.  Early enogh to hit the park for some relax time:  Some folks read, some slept.  Scott and I wote a new tune.
\
We killed a lot of time, and tried to stave off drinking until a somewhat reasonable hour. We made it until about 4pm, when we hit Downtown Brews.  DTB do actually brew their own beer, but being the northwest beer snobs that we are, we didn't think it was amazing, well except for the happy hour $2 pint.  Half Light supports $2 pints of microbrew.   We also really want to play at DTB next time we hit SLO.  Some band called Senses Fail was playing there that night.  A lot of cute little punk/goth teenagers were lined up to see them.  I have to say I pretty much loved every single concert I got to see as a youth, but looking back on how it felt compared to how it feels now – well, I wish I would have known to love them even more.
we found a nice bar called the library directly across from the Frog and Peach where we were to play.  Now, they too had a nice happy hour and the extremely lovely bartender actaully topped off my generous pour of saphire gin before I left the bar for a comfy window perch.  This place could easily be a location for a scene in a David Lynch movie.  Half Light loved it there:
Well we cheked out the Frog and Peach, it was going to be a new record for fitting HL on the stage.  Luckily, the extremely cool and nice booker Hank, had let me know that we would be running our own sound that night, and the house PA was small (no monitors.)  I put my amp on the bar itself.  I have been a sound person before, so I dusted off the PA and got my mic plugged in and off we were.  The band we were going to play with had had a recent falling out with their drummer and were not going to make it, we weren't checking our myspace regularily so we did not know that.  We waited a bit for them then we went for it.  We played ALL of our songs.  Dayna S., with her broken wrist and all.
Have you heard a band say, "well if it meant something to one person then it was worth it?"  I would like to extend a gracious thanks to the tye-dye hippie dudes that were dancing, and the nice young gentlemen at the bar who listened to our whole set and bough our CD.  The place was so not full, and the majority of people so not paying attention that i actaully manufactured cricket noises in my head after our tunes, beacuse most people did not notice that the band was playing.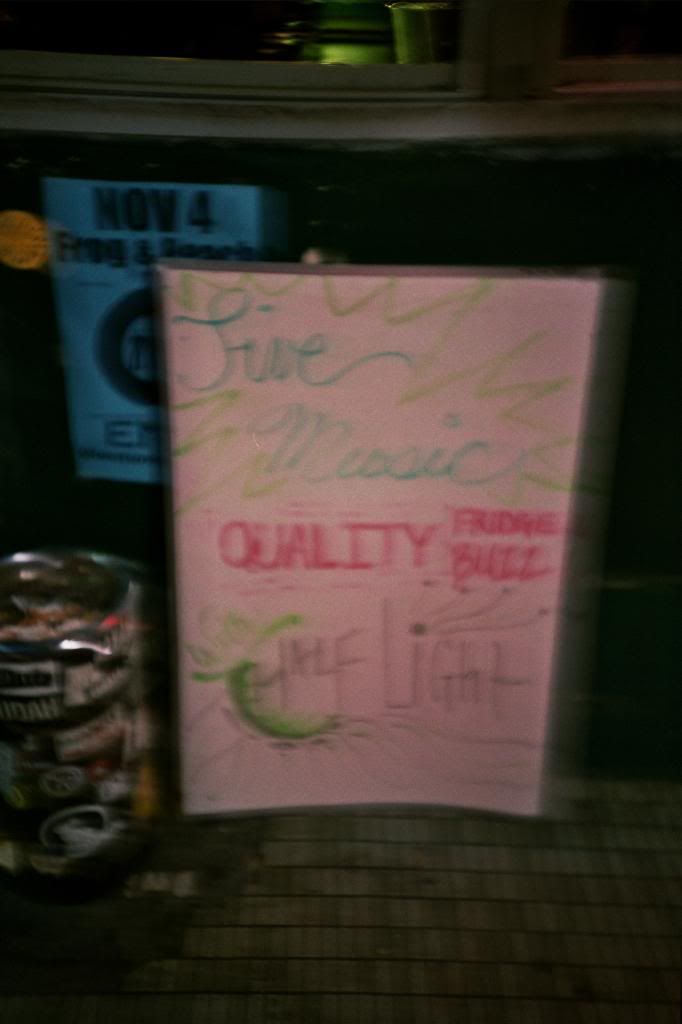 We went back to the hotel, the first night that we had two rooms, and after the boys downed a 12 pack of PBR and the girls hit the Kentucky Straight Bourbon Whiskey, we got some sleep. It was the first night that I had slept in a bed in a week, and it was nice.  Next off to Fresno, then home….