Well, I started my 36th year by waking up in a van in a parking lot in Portland, next to two strip clubs and an hourly motel. Playing a rock show in Davis later that night was great fun. Much thanks to my co-worker Cate, who braved the "girls gone wild" crowd to support Half Light. Turns out, I had so much fun that I had a bit of a hangover as I started my second day of my 36th year waking up early, in the van, in the parking lot of some motel next to the interstate. Turns out its really hot in California and the "Silver Bullet" quickly turns into an oven. I scrounged around for some water, not really caring who's it was or how long it had been in its container and tried to make the head quit hurting before it was time to go up to the room and get the troops rolling.
This is the day that I learned of Mr. Breakfast. Apparently you give Mr. Breakfast your coordinates and Mr. Breakfast gives you the best breakfast nearby. Mr. Breakfast did not let us down, Jeff and Barb scoped it out in the parking lot.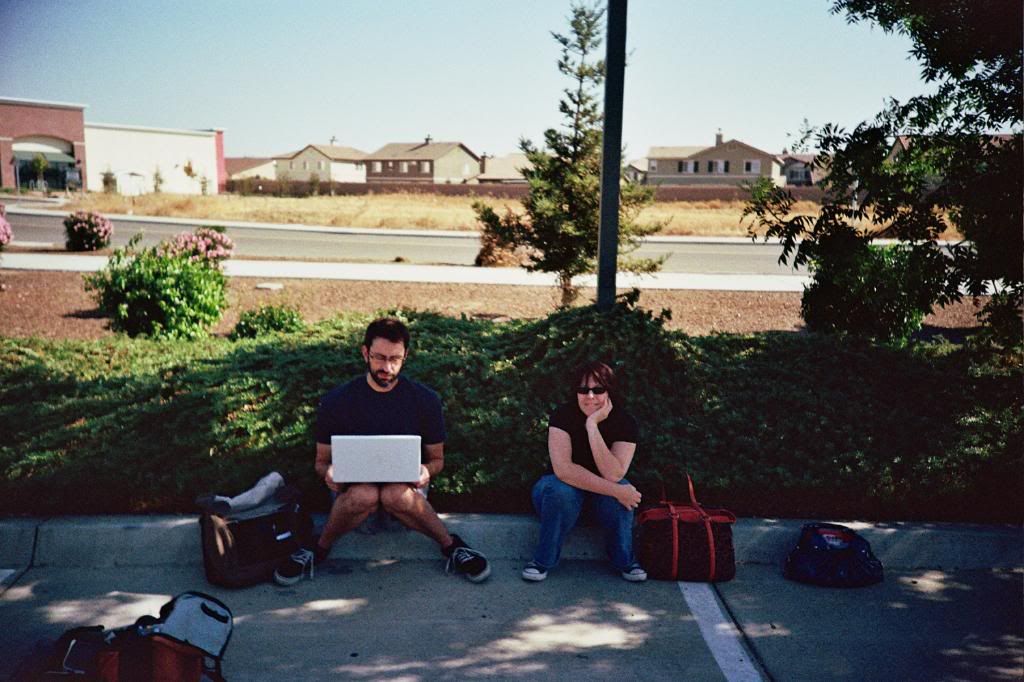 We decided to not make any decisions about what to do that day until we had coffee and food. Half light are pretty useless until we've had coffee. We decided to take advantage of our days off and head to Half Monn Bay then leisurely drive down to LA on the world famous highway 1.
We made it to Half Moon Bay, and it is a lovely place. The fragrance of eucalyptus and dill slowly roasting on the surroundign hillside was splendid. We got to see the afterglow of sunset on the Pacific:
All of Half Light wanted Mexican food and Margharitas. Lots of Margharitas. There was a great mexican reastaurant within walking distance from hotel. They did not have margaritas, so we drank beer. The food was awesome. We bought some Jamaica, that we took back and mixed with the bottle of vodka Dayna S had so wisely brought with us. A good night was had by all.